Concept of Diabetes pf Should be Changed
I DR PREMANIDHI PANDA FROM INDIA PUT FORTH MY VIEWS IN DIABETES FOR WHICH I HAVE GOT MORE NUMBER OF CONTROL DIABETES PATIENT.
(1). DEFINITION OF DIABETES SHOULD NOT BE BASED ON BLOOD SUGAR.IT IS MY OBSERVATION ONLY HB1AC IS THE CRITERIA TO DIAGNOSE AS DIABETES WHEN MORE THAN 6.5. IT DEPENDS UPO WHAT TYPE OF FOOD TAKEN IN THE PREVIOUS NIGHT.IT IS MY OBSERVATION IF WE CONSIDER THAT BLOOD SUGAR IN 30% CASE WILL BE INCORRECT. SO I USED CONSIDER UPON HA1C RATHER THAN FBS AND 2HR PPBS.I HAVE GOT MORE THEN 90000 PATIENT.ALL ARE HAVING HBA1C 5.5 TO 6.4.
(2). STOP POLISHED RICE.CARBOHYDRATE IN POLISHED RICE IS NOT EQUAL TO CARBOHYDRATE CONTAIN IN WHEAT.PARTICULAR IMPORTANCE FOR INDIA AND CHINA SCENARIO.
WHEAT VS RICE:
| | | |
| --- | --- | --- |
| | WHEAT | RICE |
| ENARGY(Kcal) | 360 | 370 |
| CARBOHYDRATE | 51.6 gm | 79 gm |
| Dietary Fibre | 13.2 gm | 1.3 gm |
| FAT | 9.72 gm | 0.66 gm |
| Protein | 23.15 gm | 7.13 gm |
Thus I advised my patient to consume Wheat than rice.Another point Indians can consume more rice than wheat.In a good items Indians will consume too much rice.Thus "ZERO RICE".
(2). A DIABETIC PATIENT WILL HAVE GOOD CONTROL WITH BY AVOIDING SUGAR BASED FRUITS.
KNOW YOUR FRUITS (APPLE VS TAMATO)
*AVOID ALL SUGAR BASED FRUITS APPLE:-I used to advice not to take apple till blood sugar comes to normal. Previous slogan has been changed from:- "an apple a day keeps the doctor away." To "A Tomato a Day Keeps the Doctor Away." I have seen in my study a person with diabetes consuming apple blood sugar has increased greatly in comparison to tomato. Although apple is advised for its anti-oxidant property. Now days it has been seen that Tomato contains Lycopene which is more potent than any Anti-oxidant. That too it has got anti cancerous property.
| | | |
| --- | --- | --- |
| | APPLE | TOMATO |
| Calories | 52CAL | 18CAL |
| PROTEIN | 0.26 Gms | 1.80Gms |
| Carbohydrate | 13.8gms | 1.72gms |
| Fat | 0.17gms | 0.20gms |
| Dietary Fiber | 3Gm | 2Gm |
| Cholesterol | 0 | 0 |
| Sodium | 0 | 13mg |
| Potassium | 144mg | 331mg |
| Lycopene | 0 | Present |
(ANTI CANACEROUS PRPERTY),
HERE I WANT TO EMPHASIZE APPLE DOES NOT CONTAIN ANY "AMBRUTA" THAT IS GODS ANY VERY BENEFICIAL THINGS.IT CONAINS ONLY PHYTO OXIDANT AND FIBER.THUS I USED TO ADVICE "TOMATO" AND "MUSHROOM",LEMON.
(3). MANGO SHOULD NOT BE ADVISED. IT IS MY OBSERVATION BY TAKING ONE MANGO BLOOD SUGAR INCREASES TO 3-4 TIMES.PLEASE DO NOT ADVICE TO THE WORLD "MANGO" IS GOOD FOR DIABETES.
4). INSTEAD OF APPLE PLEASE ADVISE TOMATO.
(5). I AM AGAINST INSULIN IN TYPE II DIABETES EXCEPT SIX INDICATION.
MY VIEW INSULIN THERAPY IN TYPE II DIABETES:- Six conditions in type II diabetes.
• (1)In Type II Diabetes when maximum oral hypoglycimic drug does not work.
• (2)You are having infection.
• (3)You are undergoing surgery.
• (4)When target organs involved(BRAIN,HEART,KIDNRY,NERVES)
• (5)Fulminating Conditions.
• (6)Gestational Diabetes With Previous History of Type II diabetes.
(6). PIOGLITAZONE IS A MARVELOUS DRUG.DO NOT BLAME IT.I AND ALL MY FAMILY MEMBERS INCLUDING MORE THAN 60000 PATIENTS ARE UNDER PIOGLITAZONE.NO SIDE EFFECTS TILL NOW I HAVE RECEIVED.
(7). ALL DIABETICS SHOULD BE ADVISED TO TAKE 20PETALS OF RAW GARLIC,TWO ONIONS AND ONE LEMON A DAY TO PROTECT HEART,KIDNEY AND LIVER.FATTY CHANGE CAN BE REVERSED BY TAKING THESE THREE.
(8). I DO NOT FIND MICRO VASCULAR AND MACRO-VASCULAR COMPLICATIONS INSULIN VS OHD. I MAY REQUEST TO INVITE ME GIVE MY VIEWS IN THE SCIENTIFIC STAGE. EVERYTHING IN MY WEB SITE. WEB:-drpandadiabetes.com WITH HIGH REGARDS DR PREMANIDHI PANDA,M.D(MED),MRCP,FRCP IN DIABETES(USA)
.
Important Links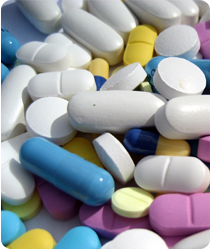 Prof. Premanidhi Panda
M.D.(Medicine).
Hon.PhD in Diabetes(USA)
MRCP, FRCP in
Diabetology Sr.Consultant
PhysicianDiabetologist
Ex Sr. Consultant Chief of Critical care
Ex-Consultant Physician &
Chief of Critical Medwin Hospital
Hydrabad, LIBYA, TISCO State &
Central Govt. Service AMA for
Central Govt. Employees PPL
Ex-postgraduate teacher for DNB
Students Undergraduate students
from American University in
Trophical medicine, critcal care
teacher. Selection committee
member for specialist and Sr.
Specialist in Govt. of india
Organisations. Regd. No. 8085(0)